Chafing Dish
Posted on July 6, 2019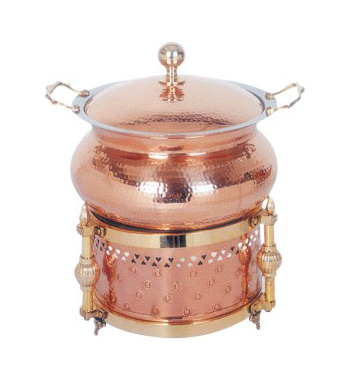 Kanhaiyalal Hotelwares Chafing dishes come in a variety of shapes and sizes, from rectangular to oval and can have hinged, lid, and roll off covers. They also vary in the way they can be heated. They are most commonly heated or gel fuel and a wick placed inside of a metal dish below the chafer. The metal dish serves as a perfect conductor of heat for the low flame below.
How do you clean a chafing dish?
Sometimes, the food you heat in a chafing dish can become caked on, making cleaning a challenge. To clean your chafing dish and remove any tough grease, grime, or build-up, soak the chafer in lukewarm water and mild detergent. Use a gentle cloth to loosen caked on food and remove any remaining residue. Never use a harsh abrasive cleaning product or scourer – they can scratch your chafer.
How can you decorate your chafing dish?
When planning your events, your buffet line's decor is a top priority – as is your guests' safety. To maximize both, decorate AROUND your chafing dish with stationary items, such as floral and edible arrangements, whole fruits and vegetables, single flowers, or candles floating in water-filled vases or bowls, or even picture frames containing information on the food being heated in each dish (so everyone knows what's inside, without having to open the lid each time).